Please keep your default admin password for the time being - Travel Data will advise when you can change this. Our team will need the password to access your device one time. If you need technical support in the future, you may be asked to change the password back to the default.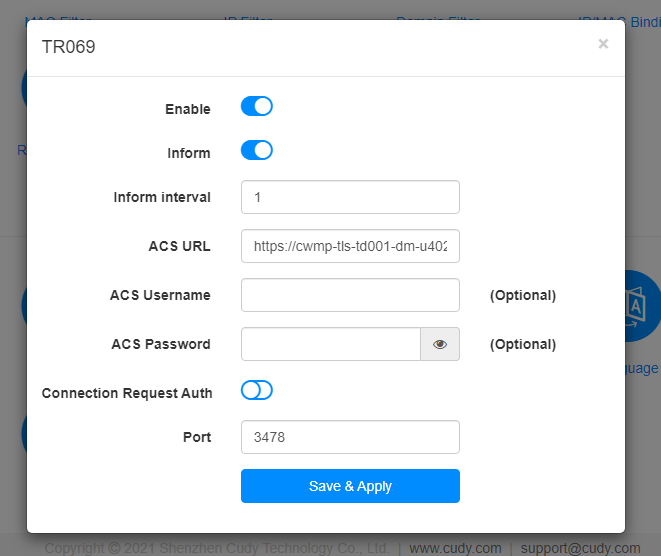 Backup LT18 Setup Steps

In some situations, you may be asked by our team to adjust some settings. The most common ask will be to try a different Port number, or to also enable Remote Web.

Follow the steps 1-8 from above, but replace the Step 5 Inform Interval with: 30, and Step 7 Port Number with: 7547

Next, from the same Advanced Settings menu, under the Security tab, select the Remote Web option, and set the slider to on, and the port to 80, then Save and Apply. A screenshot is below the TR069 Setting image: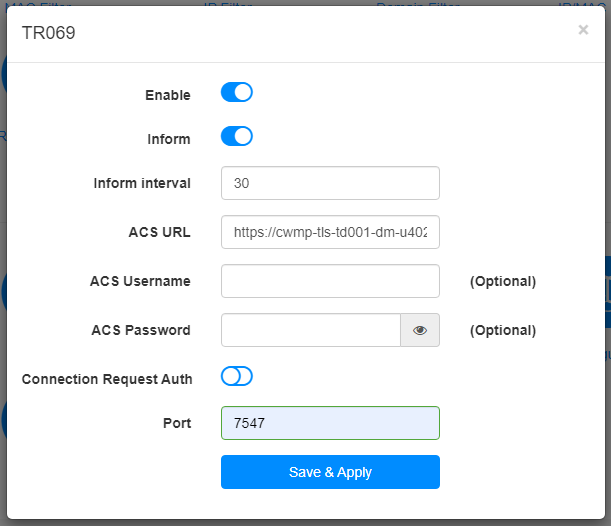 Second Backup LT18 Steps:

From the General Settings Menu; Click on the VPN option.

Select the Enable Slider to the ON position

Set the Protocol to: ZeroTier Slave

Set the Default Rule to: Ban all devices

Leave the Site-to-Site selector OFF

Set the VPN Policy to: Disabled

Set the ZeroTier ID to: 9bee8941b56ed47c

Set the Gateway to: 10.144.0.0

Press the Save & Apply button and wait for the router to save the settings

You will know when this was successful when the Device ID number populates.

Copy and paste the device ID into your reply email.

Set your Admin password to: goodlife1 by clicking on Advanced Settings at the top menu, then scroll down to the System section and select Admin Account. In the popup window, enter goodlife1 and then confirm goodlife1 and apply the settings. Once we've finished our portion of the configuration, you may use this same process to change your password to something more secure.
Respond to your Activation Request Email and let our team know your equipment is ready to be configured and kindly provide the newly populated Device ID.
Once our team has completed their work, you may disable Remote Web, but should leave the TR069 settings in place - The TR069 service is how your router will be provisioned for the network, provided security updates, and updated to the latest firmware.