Configure your Cudy LT18 Router
Who Is This Article For?

Customers who may need to reference this article include:
Existing Customers who are changing from another device to the LT18 Device, and have NOT purchased their LT18 from Travel Data.


All Customers should follow the Standard LT18 Setup Steps unless specifically informed otherwise.
Standard LT18 Setup Steps

In order for your equipment to be registered, you'll need to take a few simple steps to set up your router.

First, connect to your routers wireless network, and access your routers configuration page. The default page is: http://192.168.10.1 , and the default admin password is: admin
Next, select the Advanced Settings menu, and scroll to the TR-069 button, and click.

Set the Enable to 'On' by sliding right

Set the Inform to 'On' by sliding right

Set the Inform Interval to 1

Set the ACS URL: https://cwmp-tls-td001-dm-u402f19.acs.tr069.cloud

Set the Port: 3478

Press the Save & Apply button

Complete the Device Configuration form below, and a team member will contact you directly via email once your router has been successfully configured.

Please keep your default admin password for the time being - Travel Data will advise when you can change this. Our team will need the password to access your device one time. If you need technical support in the future, you may be asked to change the password back to the default.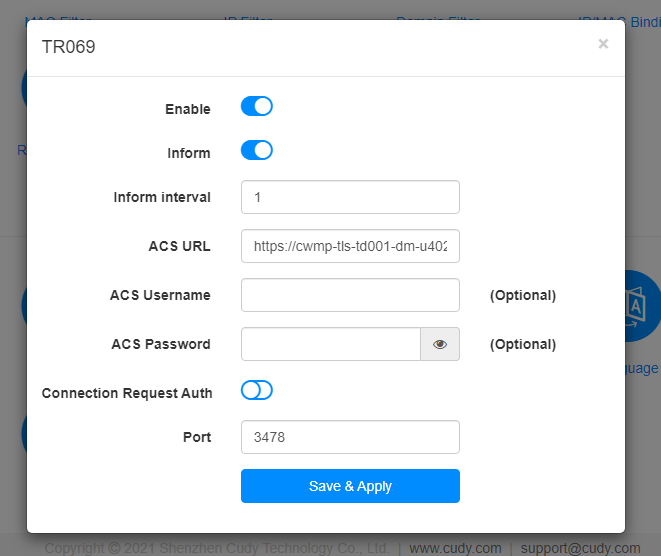 Backup LT18 Setup Steps

In some situations, you may be asked by our team to adjust some settings. The most common ask will be to try a different Port number.

Follow the steps 1-8 from above, but replace the Step 5 Inform Interval with: 30, and Step 7 Port Number with: 7547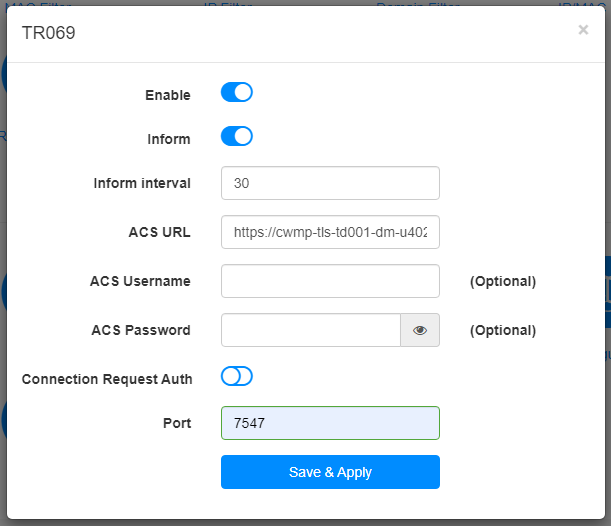 Device Configuration Form

Complete the form below to finish your device configuration. Our team will follow up within 2-6 business hours with additional steps, if needed, or to further troubleshoot any issues that may arise. If the form below doesn't load, you may use this direct link:

Related Articles

Cudy Technical Support

For advanced technical support for your Cudy router, please contact: support@cudy.com Travel Data is unable to provide advanced support of these devices.

Cudy Remote Assistance

Travel Data is able to provide remote assistance with troubleshooting connections for Cudy devices. Please follow the guide below to allow our Technical Support Team access to your router. Login to your routers control panel - the default is: ...

LT18 - Quick Setup Guide

The LT18 is simple to get set up and ready to use right out of the box. Travel Data has already installed one T-Mobile sim card for you, you'll just need to connect the antennas and power the router on to get connected!

Interactive Smart Router Troubleshooter

Please use our interactive troubleshooter to diagnose and resolve the most common technical difficulties with the 4G Smart Router. If the guide has not popped up, please use the chat widget at the bottom right of the screen. Once a chat is started, ...

TR200 Router Firmware Upgrade/Update

To update the firmware Using your other internet connection source, download the latest firmware to your PC that you will connect to the TR200 being upgraded: https://firmware.traveldata.page/TR200S12UNISOCPLUSv632.bin Connect your computer to the ...